Welcome To Rory Faithfield's Website
The Australian singer-songwriter with Celtic songlines in his head and grains of sand between his toes...
LATEST NEWS
After almost 5 years in Western Australia I've relocated back to Dublin (You'll find a little bit of the explanation and my story here on my Facebook Page).
Meanwhile, I'm currently working on songs for my forthcoming - and yet to be titled - 6th album (There's a sampler of one of my new songs - For The Gold - here on Instagram and embedded on this page below).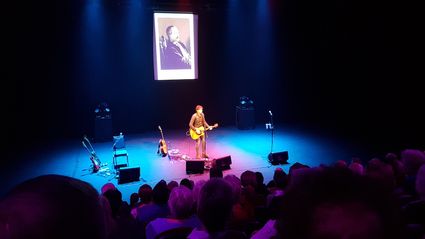 There are some clips below from the John Boyle O'Reilly Association show (pictured above) at The Cube Theatre (Bunbury Regional Entertainment Centre - AKA: BREC - Western Australia) on Saturday 24 March 2018. Naturally enough, I played: Big Blue Western Skies (More Youtube Clips here):
I'm a big believer in the power making sense of who we are now with the stories of where we come from. This is an Irish-Australian story song that I've been singing my own version of for many years: 'Back Home in Derry'
Finally, this is a clip (below) of a new (as yet unreleased) Rory Faithfield song called 'For The Gold', also at the BREC Theatre Bunbury Sat 24 March 2018. It's simple concept that I hope explains what the hell I've been up to, out here in the wilderness for all these years :-) 
-----------------------------------------------------------------
Recently, I got an invite to be part of Sofar in Perth and it was a total pleasure...under Big Blue Western Skies:
-----------------------------------------------------------------
I'm still promoting my fifth studio album, 'Southern Cross, Northern Skies', that was recorded with Noah Shilkin at Sonic Lolly Recording Studios in Margaret River, Western Australia. For some back story (and video clips) on how and where the songs came from, see my latest Journal entry.
'Southern Cross, Northern Skies' - Now available on iTunes.

Signed CD Albums - Now available from the Shop
Latest songs include: 'Different Now', 'Closer To Blue Than Green', 'Indian Ocean Blue', 'Sweet Summer Wine' and 'All The Pretty Stars' available to listen here on the music player  (Rory Faithfield - Playlist) and the 'Sounds' page.
Watch the latest promo clip for 'Indian Ocean Blue' on YouTube here:
-----------------------------------------------------------------
-----------------------------------------------------------------
PREVIOUS NEWS
Slide Show Music Video for 'Big Blue Western Skies', from the 2010 album 'Songs For Sooner' inspired by the end of 'The Troubles' in Northern Ireland and was heard regularly on Gerry Anderson's BBC Radio Ulster Show. Featuring images of the West Australian coast and the Indian Ocean.


"Faithfield inhabits the same rich musical world as Christy Moore, Luka Bloom and Glen Hansard. His songs are wistful, romantic, deeply felt, beautifully crafted and sung with a voice that pours sincerity and emotion over every line and note. This is a sublime, heart-stoppingly beautiful album from a major new Australian folk talent." - Bruce Elder
Big Blue Western Skies - Live
Live at Bewley's Theatre Cafe in Dublin (using a loop station). 'Big Blue Western Skies' is from the 2010 album 'Songs For Sooner'.
'Born In Sydney Town' is from the 2010 Rory Faithfield album 'Songs For Sooner'. Slide-show video featuring old archive images of the Sydney Opera House, the Harbour Bridge and Sydney City Centre.